THE TGJC PROJECT
LE PROJET TGJC
The Transcribed Gypsy Jazz Chordbook (TGJC) project was created after a simple observation: in gypsy jazz jam sessions, the chords played are not always the ones played in Django Reinhardt recordings. As I've transcribed hundreds of Django tunes and solos for my pedagogical website, I decided to create a document (a PDF and an iRealPro playlist) showing the chords of different versions all in one chart.

The TGJC is a pedagogical project for and by the community of aficionados of Django's music. Indeed, users who find mistakes or different chords are encouraged to contact me and suggest modifications, hence participating to improve the quality of the document.

The TGJC is a nonprofit project made voluntarily. However, it did require a massive amount of work, and if you make a donation to support the project, not only would I be very grateful, but you would also contribute to make it last in the long term.
Le projet du Transcribed Gypsy Jazz Chordbook est né d'une observation simple : dans les jams sessions de jazz manouche, les accords des standards joués ne correspondent pas toujours aux accords dans les enregistrements de Django Reinardt. Riche de mes centaines de relevés de grilles et de solos de Django, j'ai donc décidé de créer un document PDF (et une playlist iRealPro) qui présente justement les accords de ces standards, tous les accords ayant été relevés (et les références indiquées).

Ce projet est donc à but pédagogique, pour la communauté des passionné.e.s de la musique de Django... Et mis à jour par la communauté ! En effet, les utilisateurs et utilisatrices qui ont relevé certaines grilles et qui ont trouvé des accords différents sont encouragés à me contacter pour me suggérer une modification, et ainsi améliorer la qualité du document.

C'est un projet bénévole, sans but lucratif et qui a demandé un travail très important. Je vous serais donc très reconnaissant si vous faites un don pour soutenir ce projet et me permettre de le faire perdurer sur le long terme.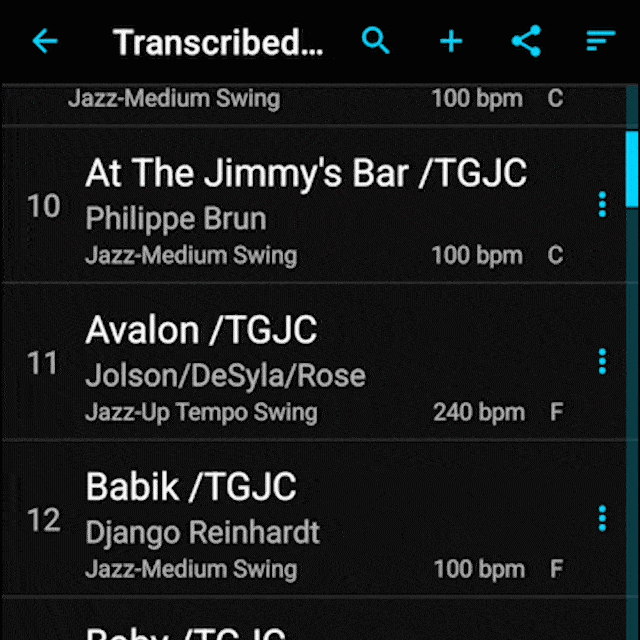 HOW TO PARTICIPATE ?
COMMENT PARTICIPER ?
If you find this project as motivating as I do (or even more), you can participate in various ways. By letting me know that you liked the project: kindness and encouragement are for free but highly appreciated! You can also make a donation by clicking the button below.

Furthermore, you can contact me to suggest new tunes or to share ideas to improve the TGJC project. I'm sure you have amazing ideas!

To suggest chord modifications, here is how to proceed. Contact me by sending a message with "TGJC corrections" in the header. Please indicate the modifications you suggest with great accuracy. Here is a hypothetical example:

In Night And Day, the version of 12/03/1950, I think the chord is not Cm75 but G#79. In the first chorus, the bass player clearly plays a G#. And in the second one I hear Django arpeggiating a G#79 chord, which suggests the G#7 chord rather than Cm7b5." The more accurate you are, the more useful!

It's highly probable that I won't answer you quickly and I apologise for that. But I promise I will read your message to include it in an updated version of the document. If you were right about the corrections, your name will be indicated in the document with the corresponding modifications.
Si ce projet vous motive autant (plus?) que moi, vous pouvez participer de différentes façons. La première, c'est de m'envoyer un message encourageant : c'est gratuit et ça me fera vraiment très plaisir ! Ensuite, vous pouvez faire un don via le bouton "Donate" plus bas.

Si vous souhaitez proposer des suggestions de morceaux ou n'importe quelle autre idée qui pourrait être utile au projet, contactez-moi simplement. Je sais que certains ou certaines d'entre vous ont d'excellentes idées.

Si vous souhaitez proposer des corrections de grilles, voici comment procéder. Contactez-moi en indiquant en début de message "TGJC corrections". Indiquez vos suggestions en étant extrêmement précis : voici un exemple inventé.
"Dans Night And Day, la version du 12/03/1950, je pense que l'accord n'est pas Cm7b5 mais plutôt G#79. Dans la première grille, le bassiste joue bien un G#. Dans la deuxième grille aussi on entend Django qui arpège un G#7b9 ce qui suggère que l'accord de la grille est plutôt G#7 que Cm7b5..."
Plus vous serez précis, plus vous me ferez gagner du temps.

Gardez en tête qu'il est probable que je ne vous réponde pas, ou avec un long délai. Pas de panique, votre message a bien été reçu et sera lu en détail, probablement avant une mise à jour du document, moment où je ferai toutes les modifications. Si vous avez vu juste pour ces corrections, votre nom sera indiqué dans le document avec les modifications associées.
SUBSCRIBE TO THE NEWSLETTER
ABONNEZ-VOUS À LA NESLETTER DU TGJC
If you want to be aware of the updates, indicate your e-mail down here. You'll receive at best one e-mail a year: I hate to receive spams, so I hate to spam others.
Si vous souhaitez être informé des mises à jour du document, laissez votre addresse mail ici. Vous recevrez au maximum un mail par an : je n'aime pas recevoir de spam et n'aime pas non plus spammer mes abonnés.
DOWNLOAD THE DOCUMENT
TÉLÉCHARGER LE TGJC
The document is available in PDF and as an iRealPro playlist. If you enjoyed and find the document useful please consider making a donation, it would really help me improve its quality.
Le document est disponible au format PDF et aussi sous forme de playlist iRealPro. Avant de le télécharger, merci de considérer sérieusement une donation, cela m'aidera beaucoup à faire évoluer ce projet.
Transcribed Gypsy Jazz Chordbook V.0 (PDF)
Transcribed Gypsy Jazz Chordbook V.0 (iRealPro Playlist)
Click on the link, and then again on the blue textual link Cliquez sur ce lien, puis sur le lien bleu dans la page qui apparaîtra